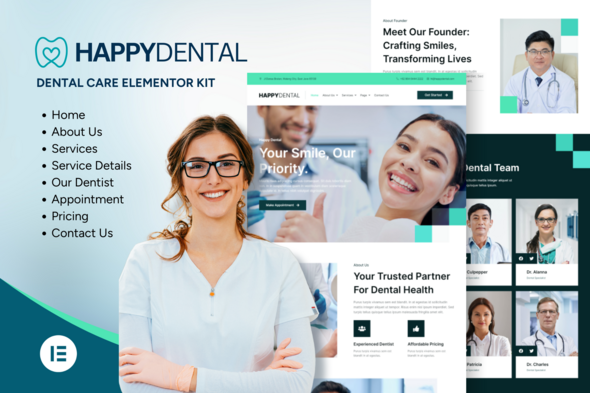 Happy Dental – Dental Care Service Elementor Kit
Elevate your dental clinic's online presence with our Dental Care Service Elementor Kit. Designed for dentists, clinics, and dental labs, this kit offers an effortless way to create a professional website using WordPress and Elementor.
Pages Included:
Home
Service
Service Details
Our Dentist
About Us
Pricing
Appointment
Contact Us
With our Elementor Kit, you can easily customize each page to match your clinic's branding and services. Whether you need to showcase your team of dentists, list your services, or provide pricing information, it's all at your fingertips.
Elementor Template Kit is designed to work seamlessly with Elementor Pro or the free version of Elementor. It offers pre-designed templates for specific sections of your website, allowing you to mix and match, and customize each part as you see fit. This flexibility and ease of use make it an excellent choice for those who want a unique and visually appealing website without the complexity of traditional themes.
<!– Include your website elements and styling here –>

Source