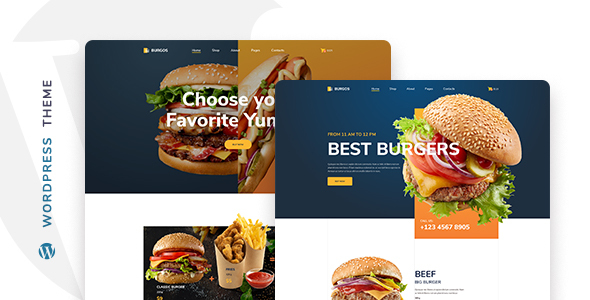 Burgos is a stylish and modern WordPress theme perfect for any food related or fast food or food delivery website.
Burgos is a great choice for your online presence.
For any questions or constructive suggestion about theme send us message
Important – Images in theme demo website are for demonstration purposes only, not included in download.
Important – For global color change small coding knowledge is needed. Everything is explained in documentation. If you need help with this, support always helps with changing color, free of charge.
Need more Burgos?
Features
Elementor page builder and Elementor's custom theme widgets
Elementor's WooCommerce custom product widgets
Responsive design
Four homepages
WooCommerce support
Mega menu
Shopping page, product page, sorting products
Blog and contact pages
Documentation and video setup
Images
Images are not included in download file.
This theme contains demo images from Envato Elements.

Changelog
21. April 2022.
Version 1.0.2
– fix for mobile menu
– child theme updated
5. December 2021.
Version 1.0.1
– Menu fallback added
– TGM plugin PHP fix
Credit
Icons – Flaticon
https://elements.envato.com/image-3G4ZH3J
https://elements.envato.com/image-P2N635W
https://elements.envato.com/image-DC8XRHZ
https://elements.envato.com/image-PTESKZ7
https://elements.envato.com/image-ZEJKHRD
https://elements.envato.com/image-P7H7WVM
https://elements.envato.com/image-UAALRN3
https://elements.envato.com/image-PYFE8X3
https://elements.envato.com/image-7YFZRU8
https://elements.envato.com/image-XPREN7U
https://elements.envato.com/image-PLH58L2
https://elements.envato.com/image-PVXM9P5
https://elements.envato.com/image-P2SVT2B
https://elements.envato.com/image-DY5T8AS
https://elements.envato.com/image-N946CV6
https://elements.envato.com/image-P8DCZWP
https://elements.envato.com/image-5GF3D8M
https://elements.envato.com/image-PBS6P94
https://elements.envato.com/image-PF4HAF6
https://elements.envato.com/image-PGWXELE
https://elements.envato.com/image-VZ6PBSW
https://elements.envato.com/image-MWSKJN8
https://elements.envato.com/image-PH8MRLG
https://elements.envato.com/image-2R8UVK7
https://elements.envato.com/image-3R2XNF7
https://elements.envato.com/image-YXRZZB4
https://elements.envato.com/image-PHFCT8R
https://elements.envato.com/image-4BM65XU
https://elements.envato.com/image-PNRXLQC
https://elements.envato.com/image-92XGQ3N
https://elements.envato.com/image-NZK9J2T
https://elements.envato.com/image-PBCAQLW
https://elements.envato.com/image-DFUBC9J
https://elements.envato.com/image-PFV6QZY
https://elements.envato.com/image-PHZTD3Y
https://elements.envato.com/image-WEEXDEV
https://elements.envato.com/image-PCWLD7G
https://elements.envato.com/image-JD2DNQB
https://elements.envato.com/image-DCRTPXG
https://elements.envato.com/image-E859B3N

Source